Home
:: Products :: Vitrectomy Equipment
How to Browse our Products
Click on a manufacturer to view their products. We carry each manufacturer's full product line. You can order any item at any time by visiting our
order page
and remember, our prices will always beat the manufacturers! So please, make note of the items you are looking for and then
contact us
to compare prices.
Vitrectomy Equipment
Vitrectomy is a medical procedure in which a gas bubble or oil is inserted inside your eye as a replacement to a condensed and fibrous vitreous fluid. A vitrectomy may be performed to clear blood and debris from the eye, to remove scar tissue,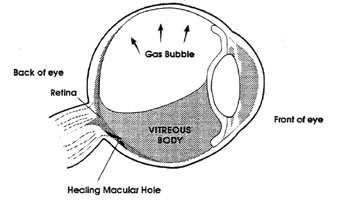 or to alleviate traction on the retina. This is an easy, painless procedure with a successful track record of improving or virtually restoring vision. Upon insertion, the gas bubble rises and applies pressure to the area that needs healing. However, since the retina is at the back of the eye, the gas bubble will only apply pressure to the top of the eye, and not the retina.
This is corrected simply by facing your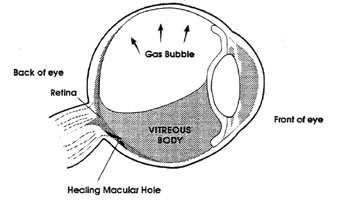 head down. It is also very challenging to keep your face down while sleeping when there is a possibility of roll overs.
Insurance
Most insurances will cover your cost when you rent or buy all Durable Medical Equipment for your surgery.
Medicare / Medicaid
Aetna
Blue Cross/Blue Shield
United Health Care
PacifiCare
and most major insurance carriers
All Durable Medical Equipment rentals and purchases are charged to the patient unless other arrangements have been made. The patient is responsible for all fees, regardless of insurance coverage.
Who has a Vitrectomy?
The following diseases/disorders may be recommended to undergo a vitrectomy:
Complications from diabetic retinopathy
Macular Degeneration
Macular Hole
Retinal Hole
Retinal Detachment
Floaters
Pre-retinal membrane fibrosis
Bleeding inside the eye (vitreous hemorrhage)
Injury or infection
Certain problems related to previous eye surgery
Epiretinal membrane.
A foreign body which has entered or passed through the eye.
Intraocular infections (endophthalmitis).
Vitreous changes following cataract surgery
What can you do to make your Face Down Recovery more comfortable?
Massage Central can offer you a few ergonomic products are designed to help you keep your head down comfortably. It helps you make sure you don't roll over to your side when you are asleep. And most importantly, it is safe to use and easy to adjust!
Massage table with Standard Head Rest. You can watch TV or read.
Massage Chair, for day time. You can watch TV or read.
Desk Top Massager can be used on your own table or bed.
EZ massage can be used in your own bed. You can watch TV or read.
All the above items can be rented.